Spain, a land of diverse landscapes and a Mediterranean climate, has a rich agricultural heritage that spans centuries. From the sun-drenched fields of Andalusia to the rolling hills of Catalonia, the country's farming prowess has led to cultivating various crops. These agricultural goods contribute to the nation's economy and play a vital role in its culinary traditions and cultural identity. Here, we delve into some of the top crops grown in Spain, each contributing its unique flavor to the country's agricultural tapestry, and highlight their significance, cultivation practices, and economic impact.
1. Olives
When we ask the question, "What does Spain produce?" one of the first things that comes to mind is olives. They have been an integral part of farming in Spain for centuries, and the nation is one of the world's leading olive oil producers. With over 300 million olive trees covering vast expanses of land, the country yields a remarkable variety of olives transformed into high-quality olive oils. Arbequina, Picual, and Hojiblanca varieties are some of the most common. The regions of Andalusia and Catalonia are particularly renowned for their olive orchards, producing oils known for their distinctive flavors and exceptional quality.
2. Wine Grapes
Spain is a true wine enthusiast's paradise, boasting a rich viticultural history from ancient times. The country's diverse climate and geography offer a wide range of grape-growing conditions, resulting in an impressive array of Spanish wine styles. La Rioja, Catalonia, and Ribera del Duero regions are known for their vineyards, bringing forth famous varieties like Tempranillo, Garnacha, and Monastrell. Spanish wines are celebrated worldwide and greatly influence Spanish food exports.
3. Citrus Fruits
The warm climate in regions like Valencia, Murcia, and Andalusia makes Spain a prime location for growing citrus fruits. The Spanish sun infuses its citrus fruits with an unparalleled sweetness and juiciness. Oranges, lemons, and mandarins are among the top citrus crops grown in Spain. The warm climate of regions like Valencia and Murcia provides the perfect environment for cultivating these fruits, which find their way into refreshing juices, delectable desserts, and aromatic essential oils. The country is a major exporter of these fruits, crucial in domestic and international markets.
4. Tomatoes
Tomatoes are a staple ingredient in Spanish cuisine, forming the base of beloved dishes like gazpacho and paella. The country's tomato cultivation is characterized by a range of heirloom varieties bursting with flavor. In regions such as Murcia and Andalusia, tomatoes benefit from the Mediterranean sun, yielding fruits rich in color and taste. Spain is one of Europe's top tomatoes for fresh consumption and processed products like canned tomatoes and sauces.
To make the Extremadura region the primary production area, with over 70% of Spain's crops, the Guadiana region, the Guadalquivir region, and the Ebro River valley have been prioritized for tomato production in Spain. Spain processed 2.7 million tonnes of the more than 38 million tonnes of tomatoes produced worldwide in 2020, placing it fourth globally behind the United States, Italy, and China.
5. Almonds
Spain is the second-largest producer of almonds in the world, and almond trees grace the landscapes of regions like Catalonia and Murcia. These versatile nuts are enjoyed independently and find their way into various sweets and pastries. Almond trees paint the Spanish countryside with delicate blossoms during the spring, creating a truly picturesque sight.
The national nuts table's most recent forecast projects that Spain will produce 120,633 tons of grain almonds during the 2023 campaign. This is 49% higher than the previous three years' average and is primarily attributable to adding more than 16,000 extra hectares to the production area.
6. Cereal Crops
Cereal crops like wheat, barley, and maize are cultivated across Spain's divergent landscapes, from the plains of Castilla-La Mancha to the Ebro Valley. These crops are essential for both human consumption and livestock feed. Wheat and barley are significant cereal crops grown in Spain, contributing to the country's bread and beer production. They significantly boost Spain's agricultural self-sufficiency and food industry.
How much revenue is generated by crops grown in Spain?
In 2021, Spain's overall agricultural output was estimated to be 56 billion euros, putting the country at the top of the European ranks. This was an increase compared to 2020, when the value of farmed production reached 53.8 billion euros, a significant record-breaking year for Spain. The agricultural outlook is good for crops grown in Spain, with an anticipated yearly growth rate of 3.87%, touted by statistical reports.
Is it Worth Investing in Crops Grown in Spain?
Spanish farmers are converting traditional wheat and sunflower fields in the south of Spain, where we offer agricultural property for sale in Spain, into almond orchards in response to the increased demand for almonds around the world. Agro Invest Spain, one of the best agricultural investment firms, offers investors the possibility to purchase land in Spain and benefit from a successful almond investment. Due to our in-depth knowledge of almonds as a commodity, their growing process, harvest cycles, and the industry, we established a solid plan for investing in acreage with permanent almond crops. Furthermore, we know Spain's future development potential, climate, logistical accessibility, soil quality, and other crucial factors that influence the value of agricultural investments in Spain.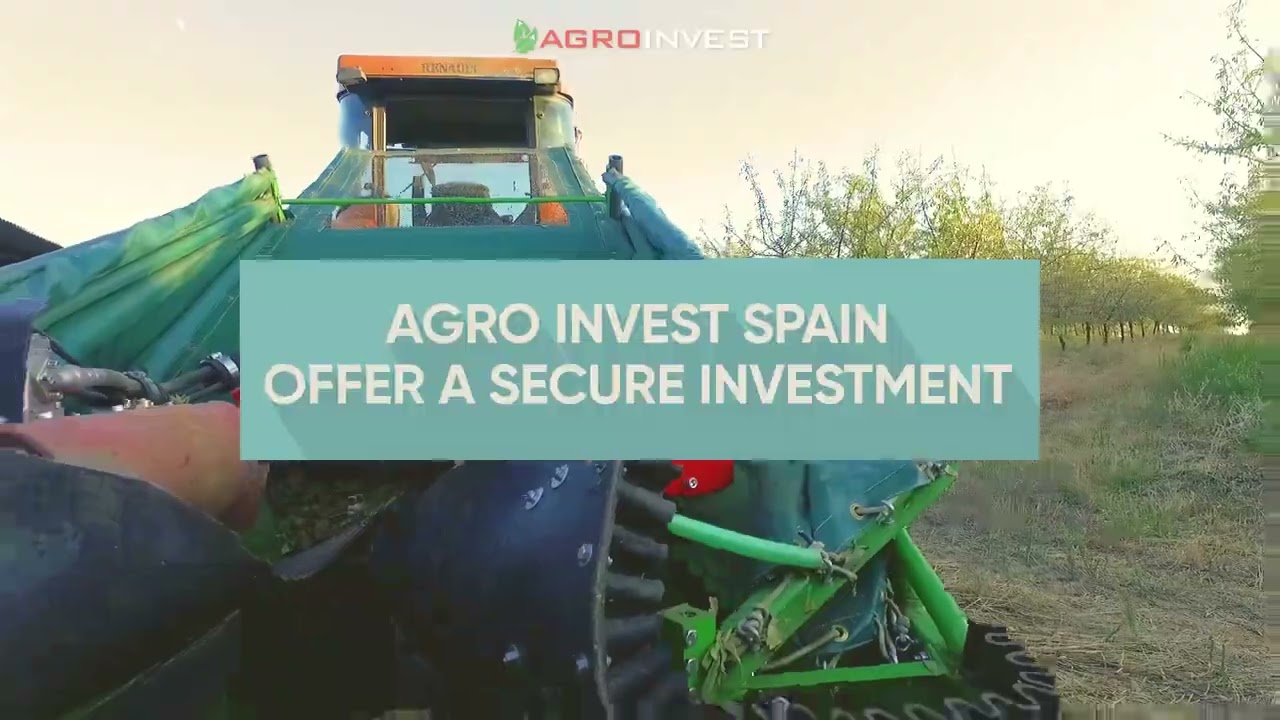 Grow your Portfolio in Spain
Spain's agricultural diversity is a testament to its unique climate and geography, allowing for cultivating an impressive array of crops. From olives and olive oil to wine grapes and almonds, these staple crops grown in Spain are at the heart of Spanish cuisine and key contributors to the country's economy and global trade. As Spain upholds its rich agricultural traditions while embracing innovation, its position as a major player in the global agricultural landscape remains steadfast.
Through agriculture investment, we at Agro Invest Spain are enhancing Spain's outstanding reputation for high-quality agricultural products and increasing output to support meeting worldwide demand. With Agro Invest Spain's almond investment concept, you may invest in crops grown in Spain and receive an average return of 15%. One of the main advantages of buying land in Spain that counts toward your real estate ownership quota for the Golden Visa Program is an unlimited time ownership title. 
It's time to get in touch with our eager experts to begin your investment journey if you're looking for the best agricultural property for sale in Spain.
All rights of this content prepared by Api Group Agro Inversiones SL ("API Group") belong to API Group. These rights are protected and the partial or complete copying, reproduction, distribution, processing or use of the content in any way without permission and without reference will result in legal and criminal liability of individuals.