Consumers are now more concerned about personal health and environmental sustainability when shopping, especially when purchasing food. These topics were traditionally seen as "fringe" concerns; however, due to consumer demand for more nutritious, functional, and sustainably produced meals, plant-based proteins are needed more than ever. As a result, almonds are the top item customers are going crazy for in the worldwide nut market regarding healthy substitutes.
So as consumers are purchasing them at an increasing rate, growers find it challenging to meet the demand. Yet, many environmentalists are worried about the water footprint of cultivating almonds. Are they a healthy food source for the planet or an environmental threat with an unsustainable water footprint?
The Birth of a Water Footprint Myth
Between 2014 and 2015, several publications raised awareness of the water footprint of almonds. Sensational claims made headlines that took the situation out of context, stating that "it takes more than a gallon of water to grow one almond" and "almonds are the agricultural product with the biggest water footprint." As with any news stories aimed at causing a stir, these statements painted a skewed picture which has left a stain on the good name of almonds. So, what is the real story about the water footprint of almonds?
Almond Water Footprint in Perspective
Almonds consume about the same amount of water as most other tree nuts, some fruit crops, and specialty goods as measured in gallons-per-pound-harvested. For instance, one pound of almonds uses about the same amount of water as one pound of walnuts, cashews, or olive oil. But, for example, producing one pound of beef requires more than twice as much water as producing one pound of almonds.
So, what about almond-based products? Let's consider the hugely popular almond milk. Almond milk actually uses less water per cup than cow's milk does. For example, a half-gallon of milk from well-known brands has about 38 almonds. Thus, if each almond requires approximately 1.1 gallons of water to grow, the almonds used to make an average store-bought gallon of almond milk need about 84 gallons. In contrast, producing one gallon of dairy milk can require up to 880 gallons of water, making the almond water footprint far less significant.
Furthermore, the almond is only a minor part of the tree, a huge plant necessary to grow the crop. The statistic of 1.1 gallons per nut does not reflect the water footprint in proportion to the water requirements of the entire tree and, as a result, does not consider the value of important by-products of almond harvesting. The almond fruit's hulls are utilized as animal feed and even as a source of alternative energy, while the shells are frequently put into other agricultural uses like bedding for animals.
The issue is not whether almond production has a larger water footprint than other activities. A more appropriate question is- what is the actual cost of producing wholesome food, and how can we reduce its societal and environmental costs? Because we need to feed a growing population, preserve the environment, and support the local farming community economically. Growers will continue to produce almonds and will do so in the most productive climates as long as there is a market for them.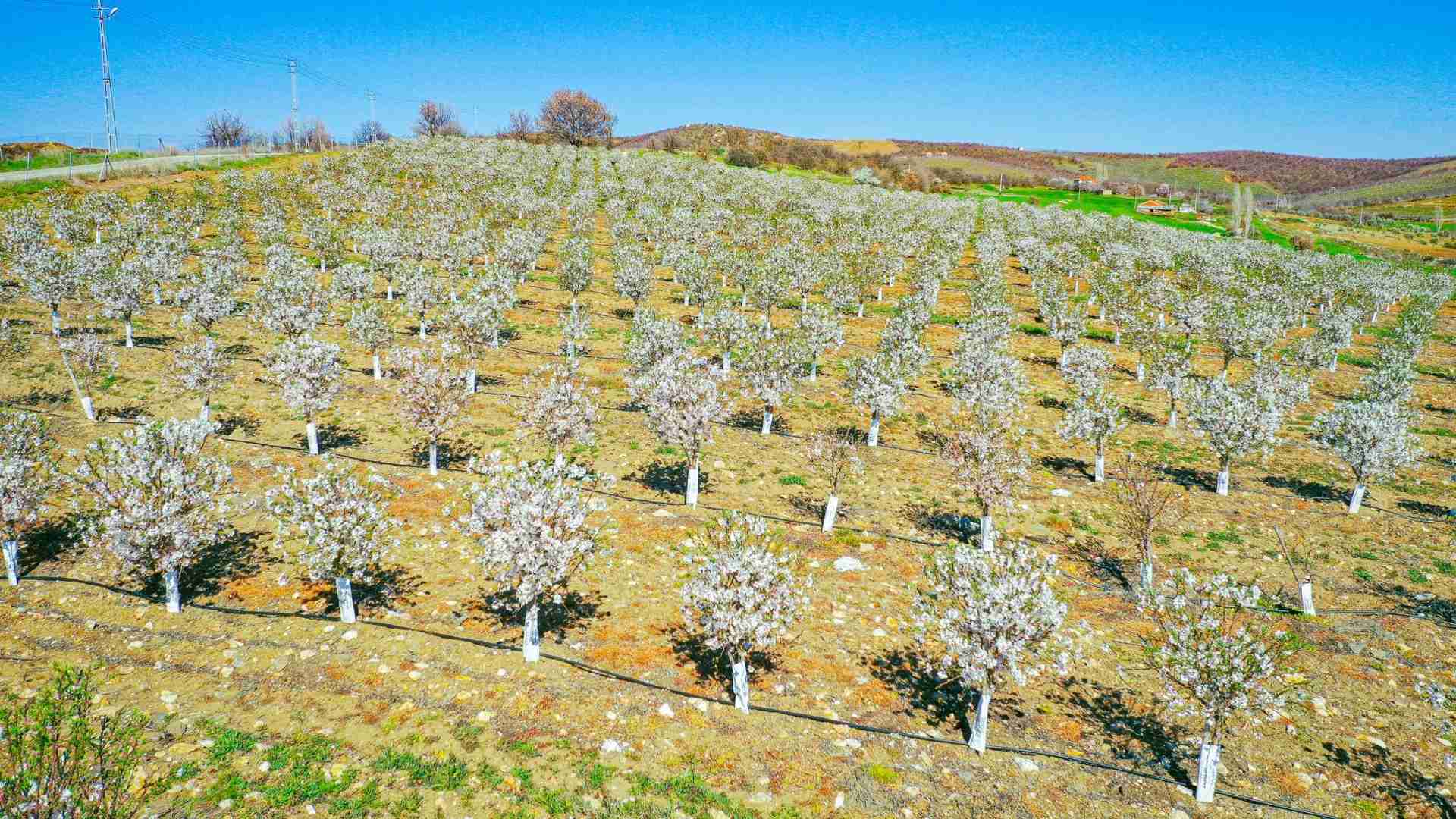 Additional Environmental Benefits of Almonds 
The sustainability tale of almonds doesn't end with their water footprint. Bees are required to pollinate each blossom for these nuts to grow. During their winter hibernation, many bees find their first natural food source of the year in almond orchards. Almond pollen is nutrient-rich and contains all ten essential amino acids that bees require, so they store it in preparation for the beginning of the pollination season. Moreover, bees are in jeopardy, in case you didn't know. While there are several reasons why bee populations are dwindling, it is crucial to maintain a healthy quantity of early flowers to protect these revered pollinators.
The Approach to Improving Almond Water Footprint
The answer is to find the most productive croplands and divert water there instead of forcing growers to stop producing almonds. Whether growing food or making electricity, we must ensure that our limited water resources are used as effectively as possible. Our water supply is limited, but the area planted in almonds is expanding. Therefore, we must continuously improve our almond water footprint to maintain this growth. 
An almond orchard can become significantly more water-efficient by building micro-drip irrigation infrastructure on the farm and putting a range of other irrigation best practices into operation. Monitoring the soil moisture levels at various depths during the course of a growing season, as well as the crop's own phases of maturation, and modifying irrigations to best give the proper amount of water to the crop at the right time can both result in significant improvements in almond water footprint and in production costs.
Spanish Almonds Water Footprint
In areas such as California, the almond-growing regions receive minimal precipitation, making them almost entirely dependent on irrigation. However, a higher rate of rainfall benefits almonds cultivated in southern Spain, reducing the requirement for irrigation, meaning they have a lighter water footprint.
Almonds are a highly logical option for Spanish farmers and for those who want to invest in farmland. As the second-largest producer of almonds, Spain accounts for a significant portion of almonds produced globally, and the fertile lands of Spain's Extremadura region offer room for growth. Almonds aren't a bad fit for Spain's environment because they have a large water footprint; on the contrary, they are very well suited to it. Given the robustness of the region's agribusiness sector, the agricultural management team at Agro Invest Spain uses the best irrigation systems and has access to a variety of resources to keep getting better. You can invest in Spain and earn an average return of 15% with the agribusiness investment concept at Agro Invest Spain.
Almonds are Deserving of Your Agriculture Investment
Almonds use water like all other crops; we can all agree on that. At Agro Invest Spain, we are dedicated to finding environmentally sound solutions to improve the water footprint of our almonds and enhance yields and returns for our investors. When you invest in farmland with us, you invest in advancing agricultural practices and food security for future generations while earning attractive ROI. One of the key benefits of using Agro Invest Spain's method to buy land in Spain is that it comes with unlimited time ownership titles, so the land and all its trees are your legacies. So, if you're ready to diversify your portfolio with agricultural land for sale in Spain, contact our enthusiastic advisors to start investing in almonds.
All rights of this content prepared by Api Group Agro Inversiones SL ("API Group") belong to API Group. These rights are protected and the partial or complete copying, reproduction, distribution, processing or use of the content in any way without permission and without reference will result in legal and criminal liability of individuals.