Agricultural investment is a distinct asset class having few traits in common with other investment opportunities. If you keep up with financial news, you probably already know that investing in farms and agriculture is the newest trend. The historical performance of farmland, which combines competitive returns in the form of annual cash flow and asset appreciation with relatively low volatility, is one of the features that make agricultural investing so alluring. Savvy investors understand that as the world's population grows, there will be a greater need for food security and arable land, and this demand will drive up the value of agriculture investment. But where do you start if you are considering such an investment? This post provides an overview of the factors to consider and available options for agricultural investing that can advance you from a novice investor to a more knowledgeable one. Continue reading to find out how to integrate agriculture investment into your portfolio.
Recognize How Agricultural Investing Fits Your Investing Goals
First, check to see if agricultural investing aligns with your financial goals. Then, you will be able to assess the benefits and decide whether they are suitable for you. That is one of the crucial inquiries to make with any investment, particularly agribusiness. Farmland is a wise investment that can generate a significant return; however, many agricultural investments have a long-term approach. 
Investors should think carefully about how returns are calculated, which crops to invest in, and how these aspects may affect their portfolio. For instance, permanent crops like citrus or tree nuts typically have better returns but may take years to fully mature, with a hold period of ten to fifteen years. On the other hand, while row crops like maize and soybeans can offer investors more immediate income, their returns are often smaller.
Investors in agribusiness need to be aware of various operating arrangements as well. For example, while lease agreements, which are most frequently used with row crops, might protect landlords against changes in commodity prices, they typically limit profit because they are based on fixed rental income. As an alternative, direct management agreements, most frequently employed with permanent crops, can provide greater exposure to the commodity markets since annual income directly correlates with crop sales.
Determine What your Personal Investment Aim is
Farmland is the most critical and emerging real asset that can help investors achieve ESG investing objectives. Farmland can store carbon and provide habitat for pollinators and wildlife, among other things. In addition, there are management approaches that can work in tandem with nature rather than against it to maintain food security and ecological value. So, there are choices in organic farming, regenerative farming, and sustainable farming if impact investing is for you.
Evaluate Agriculture Investment Opportunities
To find suitable farmland, you must first learn about agricultural investment types to decide which best fits your needs. Therefore, we have detailed some of the most popular agricultural investment options here. 
Farmland REITs
Real estate investment trusts, or "REITs," buy, own, and manage properties. This works like a mutual fund by combining investor capital. Farmland REITs provide access to real estate assets without the significant transaction costs or administrative expenses incurred by direct purchases. Farmland REITs have a high level of liquidity, give a passive investment option, and have a diverse portfolio with a variety of farms and crop kinds, which offers some protection against failures in specific regions or crops. Yet, because REITs are closely related to the stock market, liquidity can work against investors during a market sell-off. Furthermore, this agriculture investment gives the lowest profits compared to total farmland or crop ownership.
Agricultural Equity Funds
Private equity funds are managed capital pools that give institutional investors in alternative assets, such as endowments, pension funds, and high-net-worth individuals, the chance to make large-scale investments in real estate. They operate on a grander scale than REITs and often cater to more prominent investors. Due to the funds' propensity to invest across various assets, agricultural investing can provide excellent diversification and exceptional profits. However, the minimum investment amount and associated costs can be prohibitive. Therefore, high-profile investors are the ideal candidates for this form of agricultural investing.
Farmland Asset Management
This type of investment involves buying agricultural land and contracting with a professional company to manage your farmland assets, offering the most significant advantages of land ownership. Outsourcing investment administration to a third party is a component of the farmland investment strategy. In this instance, the asset managers handle various concerns, including farmland operations, commodity management, logistics, and communication. As a result, you can make passive investments in this kind of managed farmland model. 
Agricultural Stocks and EFTs
If you are looking for a passive way to invest in agriculture, then agricultural stocks or EFTs may be for you. This type of agroinvest strategy gives you access to publicly traded stocks and funds that cover a broad spectrum of the agribusiness industry rather than being specifically farm related.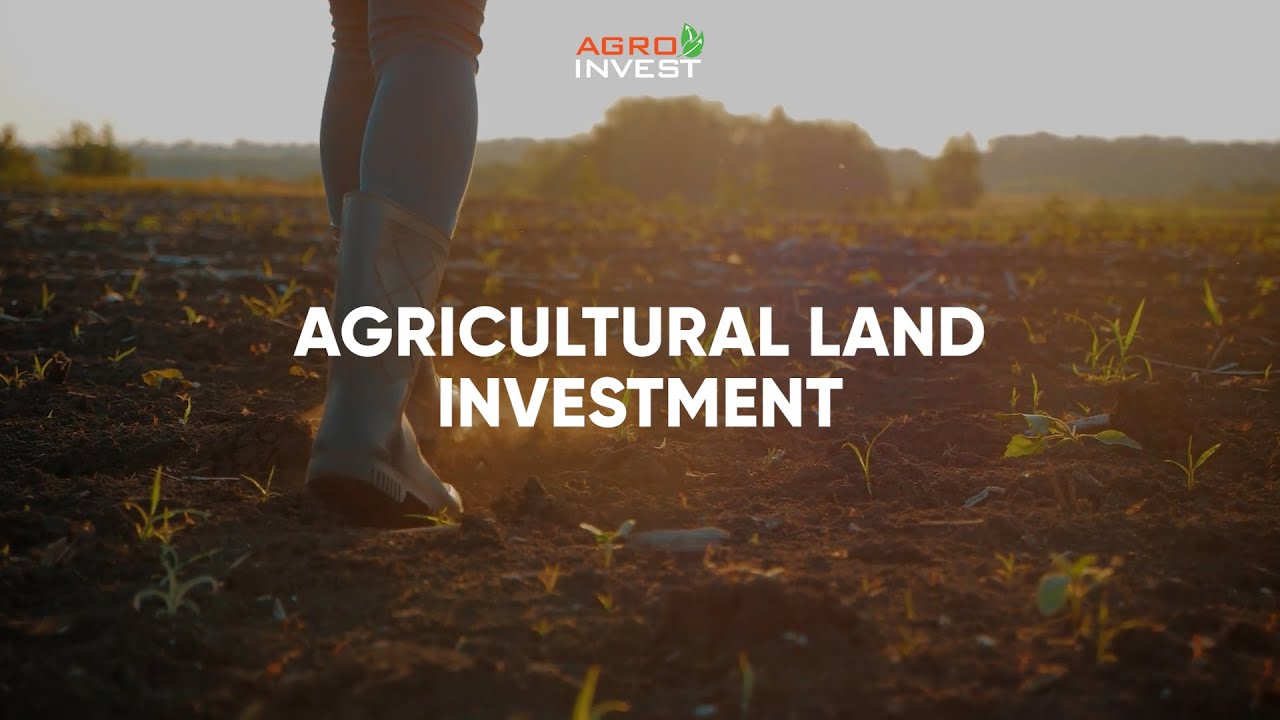 Know the Value of Your Agriculture Investment Option
Before learning how to invest in agriculture, it is critical to understand valuation, as this is the main factor in determining whether you profit from your investment or incur a loss. Therefore, while investing in agriculture, you should consider the following factors.
Farm Income: The crop yield determines how much money your farmland will bring in. Hence, inquire about the number of crops that can be grown and the dependability of market access. Also, the predicted farm rental rate will further determine the farm's value if you choose a model that involves renting out your farmland. Finally, analyze the farmers' or management fees and how they stack up against the revenue from crop sales.
Additional Assets: Buying farmland requires several crucial processes, including this. You must be aware of any structure or agricultural irrigation system on the land. They will increase the productivity of your land. Check those, as there may be unexpected, unwelcome obstacles.
Market Connections: Ensure the local market is strong before investing in agricultural property. The reason for this is that you want to ensure that there will be a healthy market, reliable logistics, and an excellent geographical position for the commodities produced on your farm.
Agriculture Investment has many Advantages.
Agriculture investment offers more than just the attractive possibility for passive income; it has historically displayed lower volatility than many other prominent asset classes, such as gold, bonds, and stocks. As a result, farmland has traditionally shown a better risk/return ratio than comparable assets. Furthermore, investing in farmland has been a sound way to protect wealth through economic downturns. This is primarily the result of value increase over the long term, brought on by external factors like population growth and the ongoing need for food security. Understanding the underlying volatility of your investments is essential in a volatile market climate. Farmland appears to be reacting to the recent economic changes as it always has- it has performed better and been more reliable than most other asset classes. 
Agro Invest Spain's Winning Model
In place of shares in a trust, Agro Invest Spain offers unrestricted farmland ownership as an alternative to the paradigm provided by private equity funds or REITs. Agro Invest Spain is a trusted agricultural real estate firm with a solid foundation in farming, investment brokerage, and real estate. The farmland in Spain we offer is a true asset for which our investors are rewarded. Beyond the appreciation of the land's value, our clients earn additional revenue from crop yield and on-the-ground operations at our almond plantations. 
All items on the property, including certified trees, are included in the ownership package, along with unrestricted ownership. In addition, water supply, agricultural irrigation systems, fencing, solar panels, worker housing, equipment, machinery, and energy connections are all provided by our management firm. From soil preparation until harvest, we offer comprehensive, skilled administration of the property and its operations and have investor-dedicated factories for processing almond crops. An agriculture investment with Agro Invest Spain, you can take advantage of the farm in Spain's potential for growth and yearly income from their agricultural uses. 
A Sound Agriculture Investment in Spain
Did you know Spain currently ranks third in the EU for investment? Investors, therefore, regard Spain as one of the most alluring business markets and a sure bet for international investment. The European Union market, recognized as the world's biggest and most active market, will be accessible if you invest in Spain. You gain from the European Union's single currency and the free flow of goods and services across the continent. Spain is also one of the world's top exporters of commercial services because of its central geographic location with access to large markets, including those in Europe, Latin America, Africa, and the Middle East.
Your Agriculture Investment with Agro Invest Spain
For investors looking for a more involved and significant option to invest in agriculture, our portfolio at Agro Invest Spain is ideal. Furthermore, investors who are enthusiastic about investing in agribusiness will be attracted by the opportunity to monitor the development of the crops and generate a secondary income from their harvest. Find out more from our investment specialists right now about your profitable investment with an attractive yearly return on investment by contacting us today. 
All rights of this content prepared by Api Group Agro Inversiones SL ("API Group") belong to API Group. These rights are protected and the partial or complete copying, reproduction, distribution, processing or use of the content in any way without permission and without reference will result in legal and criminal liability of individuals.